Recently looking into a renowned Professional Social Network, I was surprised: Somehow I managed to have three IT and Oracle jobs in sequence, and now mid-2020, all of them lasted the same amount of time. Six years and a half.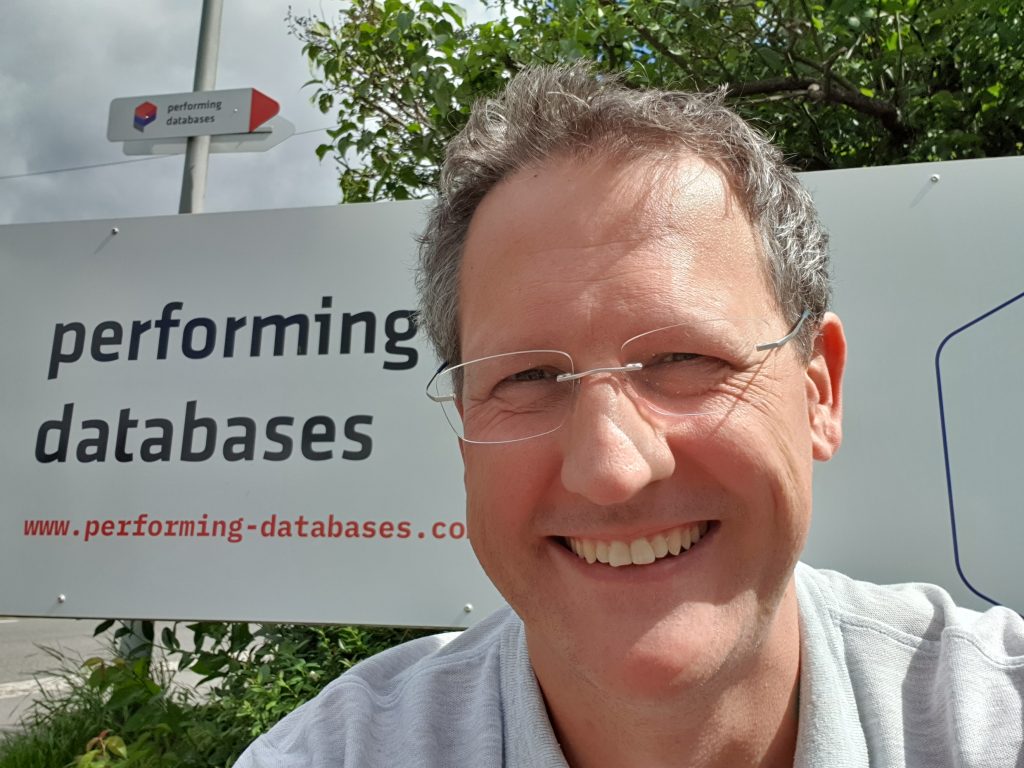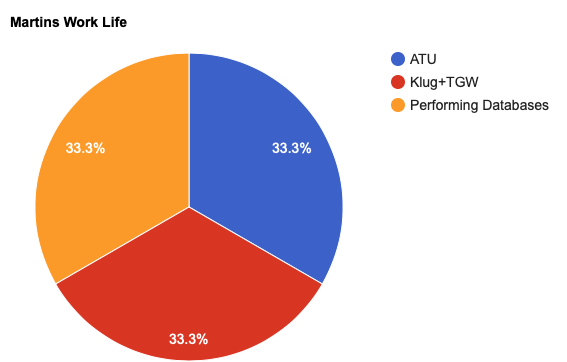 Before
Electronics and IT was my passion in youth, so while still being in school, I started using Linux instead of moving to Windows 98, and a small business network at home was the first playground.
After school, I joined the Germany Navy for two years, and served on board of a class F123 submarine hunter Frigate, named after my home state, "Bayern". It was a great time, but I knew that I would not be satisfied there for a long working life. Time to look for a real job …
A.T.U
ATU at this time was the biggest big car parts retailer and car repairer of Germany. Their HQ is not far from my home, and so it was an obvious choice to apply for an IT apprenticeship there. It was accepted, and I started with repairing Windows PCs , but by constantly complaining about badly administered Linux servers, I promoted myself to be the Linux admin, of which they had none. 🙂 Linux servers meant Oracle Database server there, so it all began.
My first own project was to scale the self-made PHP/Oracle based, multi-purpose intranet solution from 1.000 users to 10.000. We did that in 1.5 years, by using Oracle RAC 10.1, Apache and lots of optimism. All milestones there were related to RAC: From intranet, via a consolidation platform up to a real-time payment server, and a data warehouse project.
How was this possible? First, they trusted me, even though I was young and had little experience. Second, they invested in me by paying for Oracle classes and by giving me time to learn on the job. Third, there were real problems to solve and business-critical challenges to meet. Fourth, there were two special people: my first division manager and the latest team leader who both are still role models for me. Fifth: Not at least, a crew of outstanding colleagues.
I owe them all basics I ever learned of Oracle, and ATU formed my picture of how superiors should treat a young and willing employee. Thank you! But finally, the company decided to move the IT of their chain stores to MS SQL Server, and that new project's won't be on Oracle any more. I was not too much interested in starting all over again, so it was time to look for another job …
Klug Integrierte Systeme and TGW Logistics Group
The other job came much quicker than I thought. Klug made Logistics Software: Warehouse Management, Material Flow, Visualization, Management Information Systems. My first job interview lasted six hours, and was more or less an Oracle workshop on pressing issues. Klug had not a single Database Administrator, but 200 databases running in their warehouse logistics projects. So I felt needed and wanted.
The first two years was just cleaning up, and starting standardization of set-ups and support processes. Working was sometimes like a meat-grinder then: 10 hours of decluttering projects in daylight, one-man show on-call duty at night. Nobody forced me to do it, but it was necessary, and the only chance for a better life was to muck it out.
Stupid me, the hardest part was to deal with software developers directly. I was too young to recognize my luck: Having direct access to the people who run stuff on my database, is something most DBAs in the world would kill for. I had to learn that they are the money makers in a software company, and that it takes lots of patience to steer them into safe database waters.
Life improved a lot, when I was allowed to pick me a colleague out of the next year of apprentices – one out of ten. Not an easy choice, and I picked the one with the only thing one can't learn: The best attitude towards work. So my business partner of today, Benedikt, and we first became a team – the smallest possible team of two, but a team!
Now it was "us", not "me" any more. Planning Oracle Database systems for new warehouses all over the world, doing upgrades for the older generation of them, keeping project teams afloat when their data tech base went on strike, dealing with licensing and to have new ideas for tomorrow… looking back, it looks barely possible. "Us two" was made "us three" after two more years, when Tobias joined us.
This gave me the chance to find and fill out a new passion: Go out and share knowledge, go to conferences and user group meetings, work for the German Oracle user Group DOAG, become an international speaker. Finally, I was made an Oracle ACE for that. Now the Klug DBA Team was a formidable force, and we were where I wanted the team to be: up to date on projects, technology, know-how and representation.
Good things rarely last long, so Klug became insolvent, and after a few weeks of uncertainty, an Austrian company named TGW Logistics purchased Klug, and we continued "under new management", but with a loss: Benedikt decided to head out, and work full-time in the database company, we just had founded: Performing Databases. Soon, also Tobias left us, and I was back where I had started years ago: A new former apprentice joined the show, Thomas, and reconstructing the team and its structures began.
Don't get me wrong: The relationship with TGW started with a lot of trust and likewise appraisal. And none of those went away, but led to a unique situation. I already had invested much money, much more time, and my teammate's confidence in our new company. And I learned to value the thinking of working independently. We needed a solution!
Performing Databases GmbH
Our own. Wow, what a feeling! Doing what we can do best, asking no one. But still, I was tied to TGW – by contract, but much more by heart and responsibility. So the likewise apprehension allowed us, to run it in a special way: I did the same job as before, but started billing my former employer for it. Plus the coaching for a young DBA, and the task of giving "DBA" a status in a bigger company, from outside.
In parallel, work for other Performing Databases customers accelerated. Benedikt worked full-time Oracle stuff for a bank, and I did the short-notice work, helping out wherever customers needed help. Oil and gas industry, software makers, more logistics business, builders, and many other fields of business contributed to my experience.
Over the last years, some customers changed, others stayed and became loyal partners. For me, it was, and still is, another learning phase. Looking in from outside, it gives me other (less and more at the same time) opportunities to influence database business within a company. I guess I will miss the full integration of an "internal" employee forever, but I also enjoy the value of my advice when I come in as an "external" consultant.
Companies are made of people and made by people. Thus, a big improvement, again, was the team development. My long-time friend and technology swiss-army knife Jan alias The Bonsai joined Performing Databases for full-time work, after helping few hours here and there in the past. And on the business front, Melanie joined us, to relieve Benedikt and myself from organizational and office work. Now it was an even better crew, prepared for all storms.
My passion, to share knowledge all over the world, is something I still enjoy. International conferences became my second home, at least twice a year I use the chance to go out and meet top-notch tech people wherever I can find them. So finally, Oracle ACE Director was the award for being active in the community for the time. I still bear it with pride.
Another learning thing is, to not only work IN our company, but also to work ON our business. That's a challenge, not to dive too deep into tech things to forget to resurface. On the other hand, still to have enough time to spend on tech play, on new challenges and to adopt new things into my portfolio.
In the last weeks, the modern structure, our flexible attitude towards how we can and should work, and the well-exercised support with digital aids to do so, proved being the right thing to do. The COVID-19 pandemic did not force us to change, but was a chance to help our customers to change. In my opinion, an amazing and maybe unique experience for my personal professional life.
Future
Tomorrow. Next month. New year. A decade. Time flies like an arrow, and fruit flies like a banana. Whenever I changed my way in the past, there was a reason from outside, that forced me to re-think my safe position within a (relatively) big enterprise. Nowadays, I have smaller challenges form outside, but daily ones. I got used to it, and the advantage of being exposed to continuous change is: You won't get slow in your brains, and it's a wonderful way to stay young.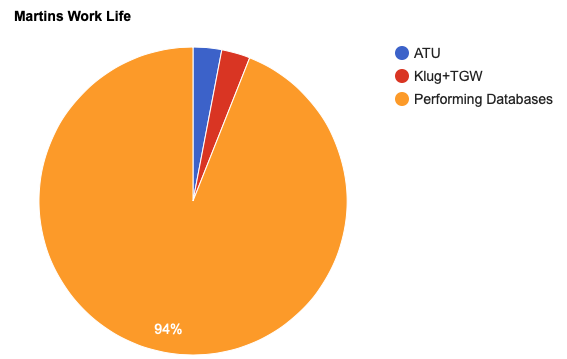 I hope to meet you and other people somewhere out there. Stay safe and tuned on the interesting waves of life!