There's always something to learn – for example about Oracle RAC (Real Application Clusters) and Dataguard. And the old-school frontal teaching concept is boring, and more important, ineffective after a few hours of passive listening. So the German Oracle Users Group DOAG organized a "noon2noon" event: "Oracle RAC and Dataguard" this week in Würzburg (January 2 1st-22nd 2016). It was the second noon2noon, after introducing the concept last year with Oracle vs. MySQL. I enjoyed it much last time, so I easily agreed to volunteer as a RAC Attack "Ninja" and tech guy on site for the workshops in general this year.
The response was close to overwhelming – we calculated 25 participants, but ended up with 39, and a PACKED room. Somebody called it a chicken cage, but the atmosphere was great. Thanks to the air condition. 🙂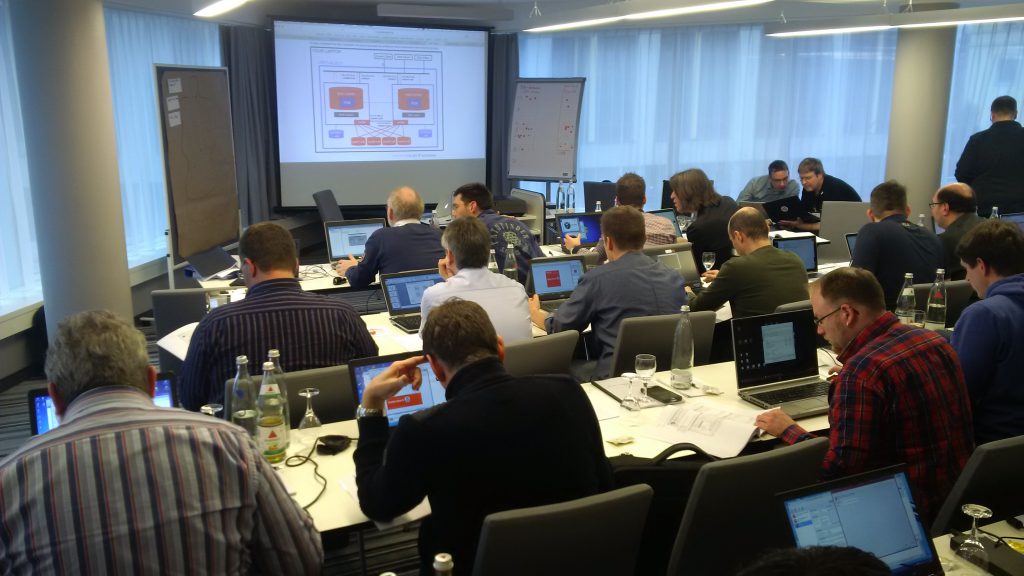 But what's that noon2noon thing?
Noon2noon is an innovative format: Let's meet at noon in the venue, discuss, hack, eat, drink, start all over again and again – until next noon. Period. 🙂
Björn Rost led the famous "RAC Attack" workshop, after  the technology was introduced by Martin Bach at noon. Robert Marz did much of the organisation, and together all four of us assisted the 39 future RAC enthusiasts through minor and major problems in Linux, bind9, Grid Infrastructure and Oracle Database. This lasted deep into the night – I never checked my watch…
On the second day, the topic was "Dataguard". In the morning, after a short night, Harald Wolf showed a great presentation about basics and specials of this high availability technique. The following workshop started with cloning OTN Linux images and preparing them for Dataguard, testing database duplication techniques with and without RMAN and solving bigger and smalls mishaps.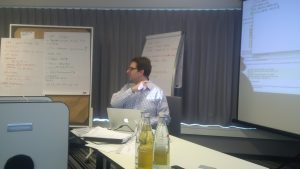 Mishaps and maladies yes, but we had a great and rock-hard crew – nearly half of the crowd stayed way over noon, in fact until 4pm this day. And this, after more than 26 hours of work-shopping!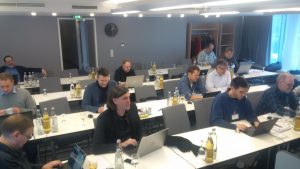 The event exceeded my high expectations, it was simply fun to have people in the room who WANT to learn, and who WANT to listen. Thanks to the other "ninjas" and Oracle ACEs on site for making this event a highlight in the still-so-young year 2016:
Björn – playing the smart-ass, you keep my brain working 🙂
Martin – quiet, efficient and just right
Robert – it simply works when you are in charge. And a special Thank You for the translation work of the RAC attack book into German!
Oliver – Würzburg would not be the same w/o you.
Christian – making it possible