DOAG Regio und Meetup
Die DOAG Regionalgruppe und Meetup Nürnberg hat ein großes Thema: Die Technologien von und rund um Oracle, und ist ganz leicht zu finden. Sie ist immer am gleichen Ort, und das Treffen findet immer am dritten Donnerstag eines jeden Monats statt (außer August und November). Die konkreten Termine und Themen werden auf den hier verlinkten Seiten gepflegt.
DOAG Regional Meeting and Meetup Nuremberg has one big topic: Technology from and around Oracle. It is easy to find. It's always in the same spot, and we always meet on the 3rd Thursday of each month (except August and November). Our topics and schedule is maintained on the linked pages.
Lageplan / Local Map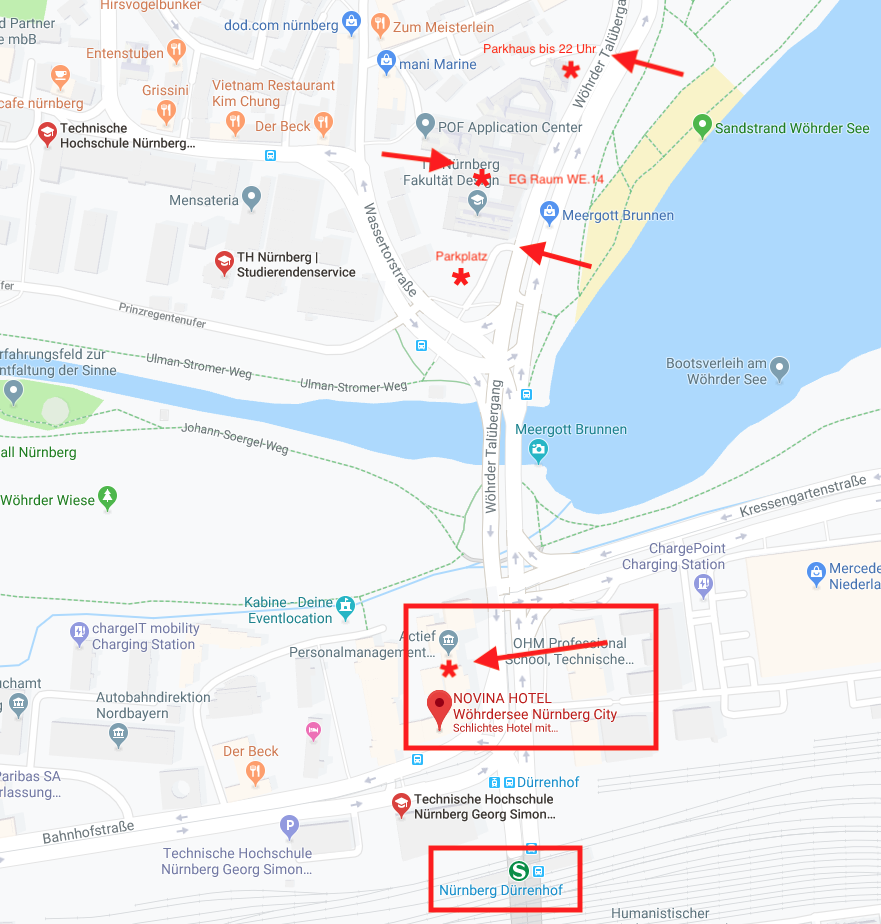 Am Haus gibt es einen kleinen Parkplatz, der nur vom Wöhrder Talübergang Fahrtrichtung Süd aus angefahren werden kann.
// Close to the building is a small parking lot. Free, and only accessible via Woehrder Taluebergang heading south.
Ebenfalls vom Wöhrder Talübergang aus erreicht man das Parkhaus der TH Nürnberg, das kostenlos aber nur bis 22 Uhr geöffnet ist.
// The underground parking is also accessible from Woehrder Taluebergang. It's also free, but only open until 10pm.
Mit öffentlichen Verkehrsmitteln ist die Anfahrt mit der S-Bahn zu Station Dürrenhof zu empfehlen.
// For public transport, use the train (S-Bahn) to DUERRENHOF station.
Das gemeinsame Abendessen und das Networking nach den Vorträgen findet in der Gaststätte "Zum Meisterlein" statt, gleich um die Ecke nördlich der TH.
// After the meeting, we usually gather at "Meisterlein" for greek food and networking. It's just around the corner, north of the college.
Für Übernachtungen liegt das Hotel NOVINA Wöhrdersee günstig.
// If you like to stay overnight, Hotel NOVINA Woehrdersee is close.
Adresse für Navigation
// Address for GPS
Technische Hochschule Nürnberg Georg Simon Ohm
Raum KA.002
Wassertorstraße 10
90489 Nürnberg
Germany
What is DOAG?
Die DOAG ist die Deutsche Oracle Anwendergruppe, die Vertretung der Oracle Anwender und Kunden in Deutschland. Ich bin stolz, dort als langjährig Aktiver neben der Regionalgruppe Nürnberg auch das Themengebiet "Hochverfügbarkeit" in der Datenbank-Community zu vertreten.
DOAG is the German Oracle User Group, the representation of Germany's Oracle users and customers. I am a proud and active member for many years now, and besides being the president of the Nuremberg group, I am also responsible for High Availability in the very active database community.