The DOAG 2015 Database conference is on the horizon: June 16, 2015 in Düsseldorf, Germany.
I'm proud to announce my participation as a speaker, as I was honoured with in the years before. This year, my part will be a new "Beginners" talk in German: "Oracle Core für Einsteiger: InMemory Column Store"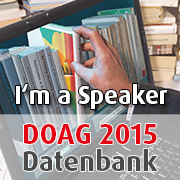 Abstract:
====================
Der Vortrag richtet sich an Einsteiger oder IT-Fachkräfte die nicht in Vollzeit als DBA arbeiten, jedoch Interesse an Datenbanktechnologie haben, bzw. für Entscheidungen hinsichtlich eingesetzter Technologien, Features und Lizenzen Anhaltspunkte suchen.
Der InMemory Column Store ist eine relativ neue Struktur der Oracle Datenbank 12c, und wird vom Hersteller massiv beworben. Der Vortrag möchte zeigen, wie diese sogenannte "In-memory Datenbank" konzipiert ist, funktioniert, und in welchen Szenarien sie sinnvoll eingesetzt werden kann.
====================
I'm looking forward to seeing you there, for tech talk, hanging out and more tech talk. 😉
Yours
Martin Klier